Article originally posted on www.erieinsurance.com

(opens in new tab)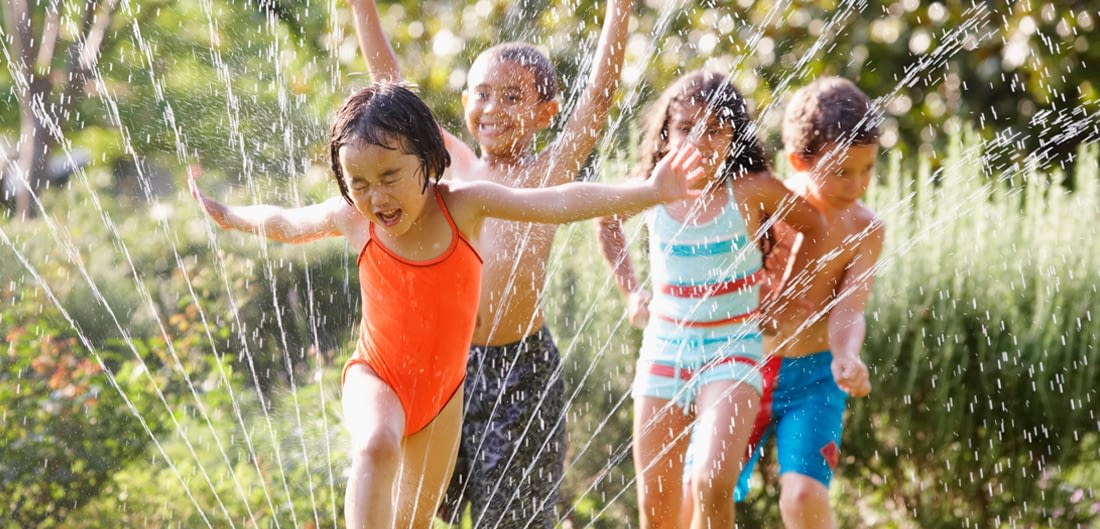 Ah, Summer! As a kid, few times of the year bring more joy. But for parents, all that unstructured free time can bring its own share of struggles.
When you were growing up, summer probably meant spending more time outdoors than inside. It meant swimming, bike rides and games of pickup basketball. Today, however, many children are content to replace those activities with television, video games and social media.
According to health professionals, all that screen time can have a negative effect on your child's development. So how can you get everyone outside and away from the television or iPad?
Here are some family-friendly ways to soak up those long summer days:
35 Great Ideas for Screen-Free Summer Fun
Go camping. There's nothing like the great outdoors – even if it's only your backyard. So grab a sleeping bag and have a slumber party under the stars. Before you go, check out these camping hacks.
Build a campfire. S'mores anyone? Roast some marshmallows and enjoy the sights and sounds of a crackling fire. Read our list of safety tips for backyard fire pits.
Play catch. Baseball is a summer staple for a reason. Grab a baseball, softball or kickball and throw it around the yard.
Visit a beach, a pond or lake. Skip some stones, build a sandcastle or enjoy watching the ducks as they swim near you. Live close to a lake? Try renting a canoe or paddle boat for the afternoon.
Go fishing. Fishing can be a blast – and a great lesson in patience. Cast away, whether you're at the ocean or a local pond.
Ride your bikes. Hit up your local bike trail or explore some new areas of your neighborhood. And learn how to stay safe by protecting yourself from bike theft.
Take a walk or hike.Find a trail system near your home or stroll down to your local ice cream stand.
Play cornhole, foursquare or basketball. Enjoyone of these fun driveway games right outside your home.
Run through a sprinkler. Cool off on a hot summer day with some sun-soaked fun in your own backyard.
Create a lemonade stand. Have a budding entrepreneur in your home? Help everyone cool off with a refreshing drink, and maybe earn some extra cash in the process.
Catch some bugs. Have you explored your own backyard lately? Learn together about the critters you see crawling or flying around.
Host a backyard competition. Get all the neighbor kids together for some friendly competition. You can play a variety of games like tug-of-war, relays or obstacle courses.
Put on a play. Have your kids show their artistic prowess, or just plain silliness, with a song, dance or comedy sketch.
Climb a tree. Find a safe spot on a branch to take in new views of your house and neighborhood.
Build a fort. This one can work outside or inside. Get creative with sticks, branches or wood you have outside and crawl under when it's done. Or opt for pillows, chairs and blankets on a rainy day.
Have a picnic. Picnics are a great summer activity. Looking to add a little flair? Try one of these family dinner ideas while you're at it.
Plant a garden. Plot the seeds to grow your own tomatoes, cucumbers or squash.
Find a farmers market. Let your kids help pick out some fresh vegetables, fruits or meat.
Go mini-golfing. Test out your putting skills at the local putt-putt course. And watch out for that windmill!
Visit a museum or historical site. Chances are there are some fun and educational opportunities near you.
Travel to a national or state park. Experience the beauty nature has to offer at your local park or nature preserve.
Jump into a pool. Find a park or a rec center nearby to splash around. For younger children, a kiddie pool in the backyard will do the trick. Be mindful of pool safety.
Fly a kite. Take advantage of that windy day by seeing how high you can fly. You can buy a kite kit or try making one of your own.
Go on a scavenger hunt. Hide household items around your yard for the kids to find. Then, create a list – and some friendly competition.
Watch a parade. Check your town or city's website for a listing of upcoming parades and festivals.
Stop by the playground. Have some fun on the swings, slides or jungle gym. Bored with the playground in your neighborhood? Try visiting a new one across town.
Rollerblade. Feel the wind through your helmet as you blade around the block or park. Too hot or a rainy day? Find an indoor ice-skating rink or roller-skating rink.
Splash in a puddle. Take advantage of a rainy day. Throw on your boots, poncho or even your swimsuit and go dancing in the rain!
Build a bird feeder. There are plenty of plans online or kits you can buy in store. Fill it with seeds and watch as birds fly in to feast.
Lay in a hammock. Relax in the summer sun (or shade) after a long day outside.
Read. Grab a book, pick a favorite spot inside or outside and enjoy a relaxed afternoon of reading.
Learn a sport. Soccer, volleyball, tennis, pickle ball – the list goes on. Sign up for formal lessons or get some friends together and get moving.
Create art. Leaf rubbings are an easy art project. Learn about nature while capturing some of it to hang on the fridge. Is leaf rubbing not your thing? Grab your favorite art supplies and let imagination run wild.
Watch a sunset or sunrise. Take an early morning or late evening adventure and watch as the sky is painted bold, fiery colors.
Stargaze. Who says nature can only be enjoyed during the day? Lay out in your yard and try to name as many constellations as you can, or guess how full the moon is, or maybe catch a shooting star as it shoots across the sky. Buy a telescope to add to the fun!
Get Out and Play
Summer is a great time to make memories with your family. Whether you're playing in the yard or taking a vacation far away, you should be able to rest assured knowing your home is protected with insurance you trust.
At Erie Insurance we believe one of the many benefits of complete home protection is your well-deserved family time. Learn more about homeowners insurance from ERIE or contact us.
ERIE® insurance products and services are provided by one or more of the following insurers: Erie Insurance Exchange, Erie Insurance Company, Erie Insurance Property & Casualty Company, Flagship City Insurance Company and Erie Family Life Insurance Company (home offices: Erie, Pennsylvania) or Erie Insurance Company of New York (home office: Rochester, New York). The companies within the Erie Insurance Group are not licensed to operate in all states. Refer to the company licensure and states of operation information.
The insurance products and rates, if applicable, described in this blog are in effect as of July 2022 and may be changed at any time.
Insurance products are subject to terms, conditions and exclusions not described in this blog. The policy contains the specific details of the coverages, terms, conditions and exclusions.
The insurance products and services described in this blog are not offered in all states. ERIE life insurance and annuity products are not available in New York. ERIE Medicare supplement products are not available in the District of Columbia or New York. ERIE long term care products are not available in the District of Columbia and New York.
Eligibility will be determined at the time of application based upon applicable underwriting guidelines and rules in effect at that time.
Your ERIE agent can offer you practical guidance and answer questions you may have before you buy.


A better insurance experience starts with ERIE.
Haven't heard of us? Erie Insurance started with humble beginnings in 1925 with a mission to emphasize customer service above all else. Though we've grown to reach the Fortune 500 list, we still haven't lost the human touch.
Contact Sharp Insurance Agency today to experience the ERIE difference for yourself.
Filed Under: Home Sense
|
Tagged With: Homeowners Insurance, Personal Insurance