Article originally posted on www.erieinsurance.com

(opens in new tab)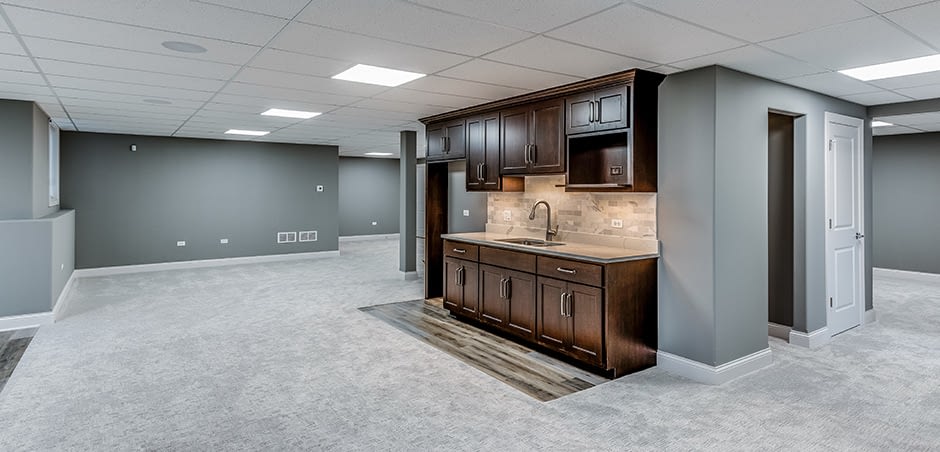 In most cities across the United States, today's hot real estate market is showing no signs of cooling down. Home prices continue to climb, driven by a shortage of inventory and low mortgage rates. And this hot market is driving many homeowners to invest in upgrading their current home instead of buying a new one.
For those looking to add more usable indoor space, finishing a basement is often at the top of the project list. When done right, a finished basement can help you reclaim wasted space in your home, allowing you to add extra living areas, bedrooms and even bathrooms while also increasing your home's overall value.
But if the job isn't done right… your newly finished basement could turn into a damp, musty waste of time and money.
To help you avoid the pitfalls of a poorly finished basement, here are nine things you should consider before starting your basement renovation.
How to Finish Your Basement the Right Way
1. Protect against moisture.
This is at the top of the list for a reason. According to The American Society of Home Inspectors, about 60 percent of U.S. homes have wet basements. And if left unaddressed, moisture or standing water in your basement could lead to a number of negative outcomes including mold, mildew and musty odors, as well as ruined flooring, drywall and framing materials.
Before you start planning your finished basement, check for any signs of moisture such as:
Condensation on pipes
Damp walls
Wet spots on your floor
If you find any evidence of water, address the issues before starting your renovation.
Fixing your water issues could be as simple as cleaning your gutters and patching wall cracks with waterproof caulk. Or it could require a whole basement waterproofing solution, such as adding French drains and a sump pump. For those bigger waterproofing jobs, you'll want to call in a professional to help.
See also: 6 Ways to Prevent Home Water Damage
2. Choose the right materials.
After any moisture issues have been addressed, you'll want to add insulation around the exterior walls of your basement to help regulate the temperature. There are many types of insulation that can be suitable for a basement.
Popular types of insulation for a finished basement include:
Sprayed foam
Bubble foil
Foam board
Fiberglass
Whatever type of insulation you choose, make sure it has a vapor barrier to protect the insulation from moisture in the walls, or apply a separate vapor barrier to the walls before adding insulation.
When it comes to walls and flooring, also choose building materials that won't be destroyed by water. For walls, that means using moisture-resistant drywall or Sheetrock (sometimes called "greenboard"). Luxury vinyl planks and tiles are popular flooring options for basements these days because of their water resistance. If you opt for carpet or laminate flooring, be sure to install a vapor barrier, such as dimpled polyethylene, to help prevent water damage.
3. Plan for access to essential systems.
If your house has a basement, chances are it's home to all sorts of critical infrastructure. That list can include:
Furnace
Water heater
Electric panel and wiring
Water pipes and sewer lines
When finishing your basement, make sure all of these systems remain accessible. If you don't, you may find yourself cutting through drywall when a repair is needed. Here are some tips to provide access:
Install a drop ceiling for easy access to overhead pipes and wires.
Add access doors or panels for hard-to-reach areas.
Leave plenty of unfinished space around appliances like your HVAC system and water heater.
While we're on the topic: Do you know if your homeowners policy includes coverage for breakdowns for major appliances and home systems? If not, learn how to add equipment breakdown coverage to your homeowners insurance.
4. Consider the ceiling height.
Depending on the age of your home, the ceiling height may be a concern. While local codes may vary, the International Residential Code (IRC) says a basement living space should have a clear floor-to-ceiling height of at least 7 feet (or 6 feet for bathrooms). If you're cutting it close, take full advantage of recessed lighting fixtures to save headroom. And if adding a drop ceiling will take away too much height, try painting instead for a more finished look.
5. Add baseboard heating.
Basements can get cold in the winter months. To avoid heating your refinished basement with space heaters, consider installing electric baseboard heating. Since hot air rises, baseboard heat can help warm your space more efficiently than tapping into overhead furnace ducts.
Related: How to Safely Heat Your Home
6. Don't forget about lighting.
Because they're located underground, most basements don't let in a lot of natural light. Before you start your project, consider whether it's possible to add windows that can let in more light. If not, be sure to add plenty of light fixtures. A dark basement isn't the most inviting space to entertain friends and family, even if it is newly finished.
See also: How to Improve Your Home Lighting
7. Add essential safety features.
If your basement wasn't originally designed as an extra living space, it may be missing key safety items you'd typically find throughout the rest of your home. For safety, consider these tips:
Make sure to add a handrail along your basement stairs.
Install smoke and carbon monoxide detectors.
Have your home tested for radon, and mitigate it if the radon levels are too high. (Learn more about how to test for radon.)
Finally: If you're adding another bedroom to your finished basement, you should also install an emergency exit (called an "egress window"). This will allow someone to safely escape from your home in the event of a fire. It's also required by code, unless you have a walk-out basement.
8. Know the code.
Speaking of codes, it's important to ask your local building department about requirements before you begin work on your basement. This will help ensure your plans fall within the legal guidelines. You should also understand any permits and inspections you'll need to obtain, both before and after your renovation. If you hire an independent contractor, perform your own due diligence to ensure they're doing everything by the book.
See also: Hiring a Contractor Checklist
9. Talk to your insurance agent.
When your basement renovation is complete, you can expect to add about 70 percent of that investment to your home's value, as reported by Remodeling magazine. That's great news if you ever decide to sell your home. But in the meantime, be sure to let your insurance agent know about any improvements so they can update your homeowners insurance policy. As a rule of thumb, any project that would change how much it would cost to rebuild your home by $5,000 or more should be reported to your agent.
Notifying your agent will help ensure your home is covered for the amount it would take to rebuild it in the event of a total loss. Also, some homeowners insurance policies include provisions that allow the insurance company to deny or limit coverage for improvements that the insurance company was not made aware of. So it's always best to be proactive and let your agent know if anything big has changed.
If you're an Erie Insurance customer, ask your agent about our Guaranteed Replacement Cost1 coverage. With Guaranteed Replacement Cost, ERIE will pay for the full cost of rebuilding your house back to its previous size and specifications at today's costs—not all homeowners policies do that.
Protect Your Home With ERIE
Home is not just a place; it's a feeling, too. We get how important "home" is, and we're here to help you protect it. With the help of an ERIE agent, you can be confident in your coverage. Talk to an ERIE agent in your neighborhood to get a no-obligation homeowners insurance quote today.
1 Guaranteed Replacement Cost applies to the dwelling and requires home improvements over $5,000 to be reported within 90 days. Not available with all policies and in all states. Coverage of costs to comply with laws or ordinances is subject to limits. Depreciation will be deducted until the repair or replacement is made. Talk to an ERIE agent for more information.

A better insurance experience starts with ERIE.
Haven't heard of us? Erie Insurance started with humble beginnings in 1925 with a mission to emphasize customer service above all else. Though we've grown to reach the Fortune 500 list, we still haven't lost the human touch.
Contact Sharp Insurance Agency today to experience the ERIE difference for yourself.
Filed Under: Home Sense
|
Tagged With: Homeowners Insurance, Personal Insurance