Article originally posted on www.insuranceneighbor.com

(opens in new tab)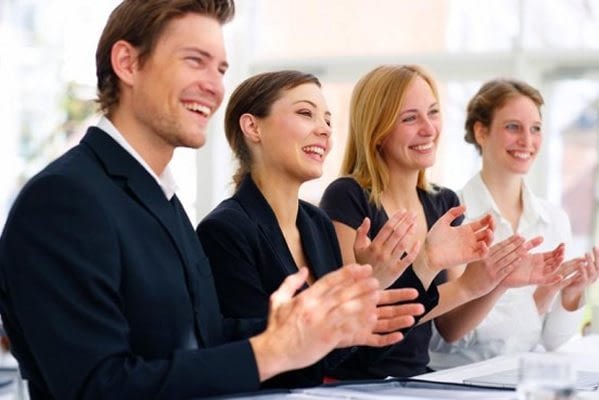 Need a few suggestions to keep your employees happier over the next few months? We have gathered together some simple tips that are designed to keep employees productive and happy at the work place. Here are a few ideas to get you started:
Give yourself and your employees permission to be happy. Make employees feel like they don't have to act serious or try to be "professional" 100% of the time while at work. It doesn't have to be one or the other; you can be professional and happy at the same time.
Be appreciative and forgiving. Congratulate others for a job well done. When a person makes a mistake, be understanding. You can't change the past, but you can shape the future by how you choose to respond. Letting go of any anger, frustration, or resentment can make your office a much happier place to work.
Have contests and fun activities that everyone can participate in. Company outings, picnics, and casual days keeps everyone cheerful and working together as a team.
Working long hours does not always equate to increased production. Set attainable goals and keep a reasonable work schedule. People who bring their work home with them or who work all hours of the day are less likely to be happy with their job. Work is work. When the work day is over, go home, relax, spend time with family, and enjoy your evening.
Place value in employee health and offer comprehensive health insurance benefits. Encourage employees to leave their desks during the lunch hour and enjoy the nice weather, go outside for a walk, ride their bikes, or simply sit down and chat with their co-workers. Offer healthy food options instead of sugar-filled vending machines. You can help your employees have a healthier lifestyle by setting an example.
Purchase a few plants for your office and find a few sources of natural light. Plants are great for producing oxygen as well as filtering the air we breathe. Natural light can have many benefits including helping to brighten your mood, boosting your immunity, and more. When you and your employees are happy at the office, you can get a surprising amount of work done; you may find that this strategy helps your company grow faster.
It is rare that an employee or executive ever truly takes a "work-free" vacation, so wouldn't you rather invest your time and effort into making your workplace happier and more fun? We are a local insurance agency that provides coverage for individuals living or working in the area, as well as many others throughout the state.
Our local agents can explain the benefits offered through a wide range of insurance offerings, and we can also review the existing policies you have in place. If you are not certain about the benefits your company is offering to the staff, or you want to find better coverage at a lower cost, a local agent can meet with you to answer your questions and concerns.
Filed Under: Business Insurance
|
Tagged With: Workers' Compensation Insurance, Group Health Insurance