Article originally posted on www.erieinsurance.com

(opens in new tab)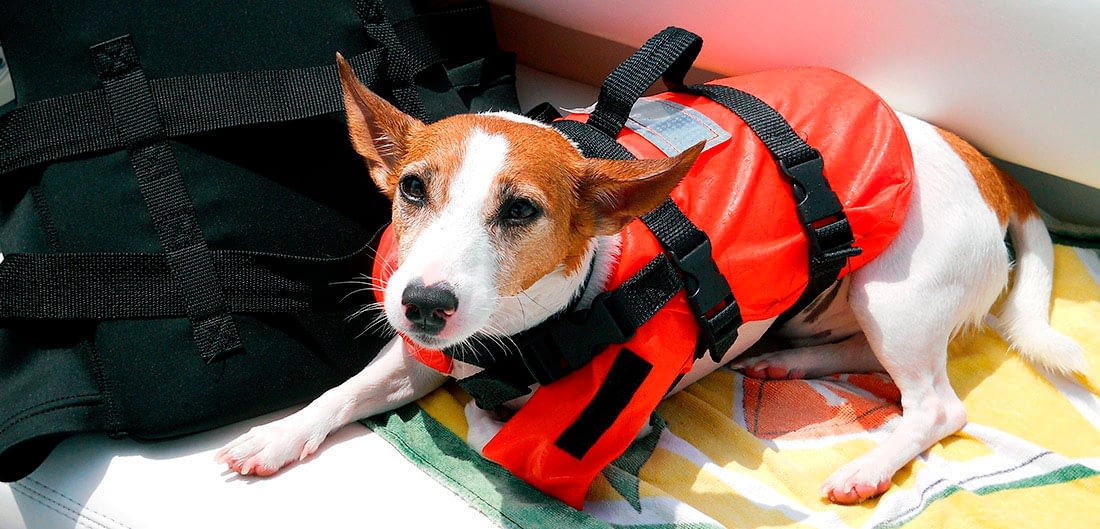 Warm weather means it's time to take the family out on the water – including your furry, four-legged family members. Whether your boat passengers have two legs or four, you'll want to do all that you can to keep everyone safe as you sail or motor across the waves. Keep in mind these top 10 water safety tips for dogs this boating season:
Train your pets to swim. Some breeds love to swim and seem to know what to do instinctively. Others are not natural swimmers and need help to become acclimated to the water. If possible, acclimate and teach your dog to swim in a baby pool. A controlled environment is safer than a pond or lake. Fill the pool to no more than halfway up the length of the dog's leg. Start with a three- to five-minute lesson. Repeat and increase the time gradually until the dog is more relaxed. Encourage your dog to have fun and play with floating toys. The next step would be to introduce your dog to deeper water. However, never force your pet to swim. If they repeatedly show signs of discomfort, it might be time to find a new activity for you two to enjoy.
Take your dog for a tour of the boat so they're more familiar with their surroundings before you head out.
Secure a crate in a shady area on the boat to provide a place for your dog to take a break from the sun and to help them stay safe if you encounter rough waters. The crate can also serve as a sanctuary from a hot deck or steamy sand, which can be uncomfortable for a dog's paws. Keep in mind that sunstroke can happen in minutes at any outdoor location, so be sure you provide a safe and cool place for your pet to rest.
Plan your trip to allow for frequent pit stops for your pet. A designated location on the boat covered in puppy pads, fake grass or another familiar material could also be used for bathroom breaks. But some dogs prefer to only go on land, so be prepared to stop.
Pack cleaning materials. Unfortunately, your pet can get seasick, too.
Bring pet identification, including pictures of you with your pet. It's also a good idea to bring a copy of vaccination records in case marinas, parks or other destinations request them.
Always bring food/treats, lots of fresh water and extra collars and leashes when you travel with your dog. Never let them drink from the ocean, lake or puddles.
Stock up on an FDA-compliant sunscreen made for pets. Dogs with light-colored coats or noses can be especially sensitive to the sun and their skin can burn easily.
Bathe your pet after your day in the water. Hidden pests may linger in your dog's fur.
Buy a pet life jacket. For breeds that are not typically swimmers, a canine floatation device (CFD) can give your dog extra support if they fall in the water. Even if your dog is a good swimmer, it's not a bad idea to put them in one anyway. But make sure you pick a good one. Keep reading for information on what to look for in a CFD.
Tips for Buying a Pet Life Jacket
Dogs are a lot safer when wearing a life jacket. Just like humans, they can get tired from swimming for long periods or be swept away by waves. Unfortunately, unlike human life jackets, canine flotation devices have no ratings or regulations. What's worse, the market is flooded with low quality CFDs. Resources like the U.S. Boating Foundation or the Whole Dog Journal have helpful information for pet parents looking to purchase a life jacket. Check out the industry's list of what to look for in a CFD:
Bright colors. Dark colors have low visibility and can raise your dog's body temperature.
Snug fit. A properly fitting life jacket doesn't restrict the dog's movement. It should be tight enough that your dog can't twist, step or swim out of it. Conversely, the vest shouldn't be so tight that it chafes or is uncomfortable for Fido.
Handles on the back of the lifejacket make for a quick rescue when you need to lift your dog out of the water.
D-rings, so you can attach a leash.
Quality. Well-made products perform better.
Additional tips
On top of making sure your dog is properly suited up with a life vest and getting them acquainted with your boat, here are a few additional tips to help your furry friend have the best time.
Pack a pet first aid kit. This can include flea and tick medication, antibiotics for minor scrapes or cuts, Dramamine and any medications your pet is currently on.
Use dog-friendly boat ramps or steps to help your dog get in and out of the water easily.
Water intoxication is a potentially fatal condition caused by ingesting too much water. Keep an eye on your pet, especially when they are fetching toys, diving and playing in the water.
Travel with a friend and dive in only as a last resort. Jumping in to save a person or pet who has gone overboard increases the risk of drowning.
Stay Safe on the Water
Follow these safety tips and you're set to create lifelong family memories with everyone on board. Ensure smooth sailing by insuring your boat with Erie Insurance.
Boat insurance is not required in every state, but having a boat policy can help protect you financially should an accident occur. Erie Insurance can also help protect your furry family members with pet injury coverage that's automatically included in ERIE auto policies (not available in all states). Contact us today to learn more.
ERIE® insurance products and services are provided by one or more of the following insurers: Erie Insurance Exchange, Erie Insurance Company, Erie Insurance Property & Casualty Company, Flagship City Insurance Company and Erie Family Life Insurance Company (home offices: Erie, Pennsylvania) or Erie Insurance Company of New York (home office: Rochester, New York). The companies within the Erie Insurance Group are not licensed to operate in all states. Refer to the company licensure and states of operation information.
The insurance products and rates, if applicable, described in this blog are in effect as of July 2022 and may be changed at any time.
Insurance products are subject to terms, conditions and exclusions not described in this blog. The policy contains the specific details of the coverages, terms, conditions and exclusions.
The insurance products and services described in this blog are not offered in all states. ERIE life insurance and annuity products are not available in New York. ERIE Medicare supplement products are not available in the District of Columbia or New York. ERIE long term care products are not available in the District of Columbia and New York.
Eligibility will be determined at the time of application based upon applicable underwriting guidelines and rules in effect at that time.
Your ERIE agent can offer you practical guidance and answer questions you may have before you buy.


A better insurance experience starts with ERIE.
Haven't heard of us? Erie Insurance started with humble beginnings in 1925 with a mission to emphasize customer service above all else. Though we've grown to reach the Fortune 500 list, we still haven't lost the human touch.
Contact Sharp Insurance Agency today to experience the ERIE difference for yourself.
Filed Under: Car Sense
|
Tagged With: Boat Insurance, Personal Insurance